Herr Most Gets Year's Sentence
Famous Anarchist Must Go to the Penitentiary.
——
PUBLISHED SEDITIOUS ARTICLE
——
IN THE "FREIHEIT" HE APPROVED MR. M'KINLEY'S ASSASSINATION.
——
Publication Was Made the Day Following Czolgosz's Act—Most's Eccentric Career.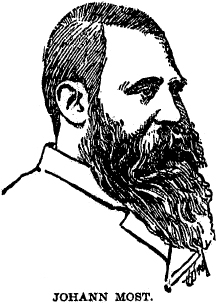 NEW YORK, Oct. 14.—Johann Most, the anarchist, was sentenced to one year in the penitentiary today in the Court of Special Sessions for publishing in his paper, the Freiheit, an alleged seditious article on the day following the shooting of the late President McKinley.
For a long time Herr Most, as he was familiarly known all over the United States, was considered the leader of the anarchists in the United States. His name was almost a synonym for fire, bloodshed and assassination. For the past two or three years he has been inactive, having in a measure fallen into disfavor with his own people. The publication of his paper was his only active participation in anarchism.